FIND THE PERFECT BRA
What makes a sports bra right for you depends on your breast size, the type of exercise you're doing, and your personal preferences.
A good-fitting sports bra locks you in to minimize movement and encourages support. With the right fit, you should feel comfortable and fully supported.

We have put together a guide highlighting what to look for when shopping for a sports bra, and helpful tips so you can find the bra that works best for you.



FIND YOUR BAND & CUP SIZE
HOW TO MEASURE
Here's two simple steps to measure your size. You will need a measurement tape to check.
Step 1
Measure Under Your Bust
Measure all around the body, directly below the bust. Ensure the tape is level all around and exhale completely. Measure to the nearest centimetre.
Step 2
Measure Your Bust
Measure across the fullest part of your breast. Again, ensure the tape is level around the body. Measure to the nearest centimetre.
HOW TO CALCULATE
Find your measurements on the below charts to calculate your band size and cup size.
CLOTHING SIZE
8
10
12
14
16
18
UNDERBUST MEASUREMENT (CM)
63 - 67
68 - 72
73 - 77
78 - 82
83 - 87
88 - 92
CUP SIZE BUST - FULLEST PART IN CM
CUP AA
75 - 77
80 - 82
85 - 87
90 - 92
95 - 97
100 - 102
CUP A
77 - 79
82 - 84
87 - 89
92 - 94
97 - 99
102 - 104
CUP B
79 - 81
84 - 86
89 - 91
94 - 96
99 - 101
104 - 106
CUP C
81 - 83
86 - 88
91 - 93
96 - 98
101 - 103
106 - 108
CUP D
83 - 85
88 - 90
93 - 95
98 - 100
103 - 105
108 - 110
CUP DD
85 - 87
90 - 92
95 - 97
100 - 102
105 - 107
110 - 112
CUP E
87 - 89
92 - 94
97 - 99
102 - 104
107 - 109
112 - 114
FIND THE RIGHT SIZE
Now that you know your bra size, use the chart below to convert your regular bra size into XS, S, M, L, XL and XXL.
NOTE: Please check the bra size guide on each product page as different brands can slightly differ in size.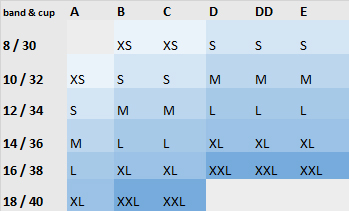 Finding Your Bra Size Is Only The First Step
HELPFUL FIT GUIDELINES
There are three main types of sports bras:

Encapsulation sports bras support each breast in a separate cup and have a band and straps like you see in everyday bras. The centrepiece should lie flat against the breastbone for a good fit.

Compression bras are usually made of elastic and compress your breasts against your chest to prevent them from moving while exercising. Compression bras are usually pulled on over your head.

Combination sports bras are a combination of both encapsulation and compression bras.
BAND

Bra support comes mostly from the band, so it is important that the band fits quite close to your ribcage. You should be able to get no more than one finger under the band or in the cup. The back band should be the same level all the way round. If it rides up, then the sports bra is too big for you.
STRAPS

Sports bras come in different styles with different types of straps. Some women make the mistake of believing that the tighter the straps are, the more support and lift they will get, however this is not the case. When the fit is right, you should be able to stick two fingers between the straps and your skin. If the straps dig into your skin then the fit is not right. When it comes to the strap style, this comes down to personal preference.
SUPPORT

Sports bras offer three different levels of support: low, medium, and high impact. The type you need depends on your cup size and the type of exercise you do.
We have outlined the different impact types below, to help you choose the right support for you.
Choose the Right Impact Level
Low Impact
Low impact sports bras are designed to support you best during low impact activities like yoga, Pilates and Barre.
Medium Impact
Medium impact sports bras are designed to support you during activities like gym training, boxing, cycling and walking. They remain comfortable and enable a full range of motion.
High Impact
High impact sports bras are designed to provide ultimate support during activities like running, interval training and tennis. Features like moulded cups are compression fit give extra support for your high intensity workouts.
SPORTS BRA FOR RUNNING
Since running is a high-impact exercise, it's important to prioritize sports bras with high support to give you maximum amount of protection and comfort while running.
Those with an A-B cup size may not need much support for low impact exercise such as yoga, however a more supportive bra should be worn when running. Although a compression bra can offer adequate support for a smaller chest, an encapsulation bra can help minimize movement and offer that extra support.
For the fuller chest, you may find maximum support with an encapsulation or combination sports bra. These bras support each breast separately, so you can be more comfortable when running, and provide less bounce.
Find The Perfect Bra
As a woman, you know how hard it is to find a bra that fits and supports you perfectly — as an athlete, you understand that support is crucial for keeping you comfortable and agile on the field. At Rebel Sport NZ, we're dedicated to helping you find a bra that gives you everything you need and more.
Find the Perfect Bra | Rebel Sport
If you're looking for a guide to help you find the perfect bra, Rebel Sport NZ has got you covered. You can follow our quick and easy step-by-step instructions to get your exact measurements; from here, simply choose your workout impact level and we'll curate a personalized list of bras that meet all your needs.
All the Best Brands
Shopping for brands you trust should be easy, and we're proud to put all of your favorite names in one place. From Under Armour and Reebok to Puma and Adidas, you're sure to find something you love right here on our site.
Rebel Sport NZ is here to take the frustration out of shopping for the perfect bra so you can focus on what really matters: staying on top of your game. Browse our huge selection today!