Understanding your Sports Bra
Calling all Sports Bra wearers, we have done the work for you. Rebel Sport understands that support comes in all shapes and sizes. We have a range of styles, designs and support levels to suit you. Innovative fabric design and technology have made sports bras more comfortable, wearable and supportive. We also cover how to care for the technology that looks after you while you move.

Shop Your Favourite Brands
Shop the latest and greatest with brands you know and love. With years of experience in the sporting world, there is something for everyone.
What to Look For
The key elements that make sports bras one of the best investments you can make for yourself.
Material
Sweating is an important and necessary bodily function to bring your body temperature down during activity but that doesn't mean you have to feel it. Many of our beloved brands feature sweat-wicking and moisture control fabric technology in their sports bras.
The highly innovative material is a key element of what makes a sports bra perfect for any activity. Not to mention, the anti-microbial properties, meaning odours caused by bacteria and sweat are minimised on the garment,
Breathability doesn't stop at the fabric technology, smart ventilation can include the right blend of materials, mesh panels and cleverly placed cutout details which allow for better breathability and range of movement.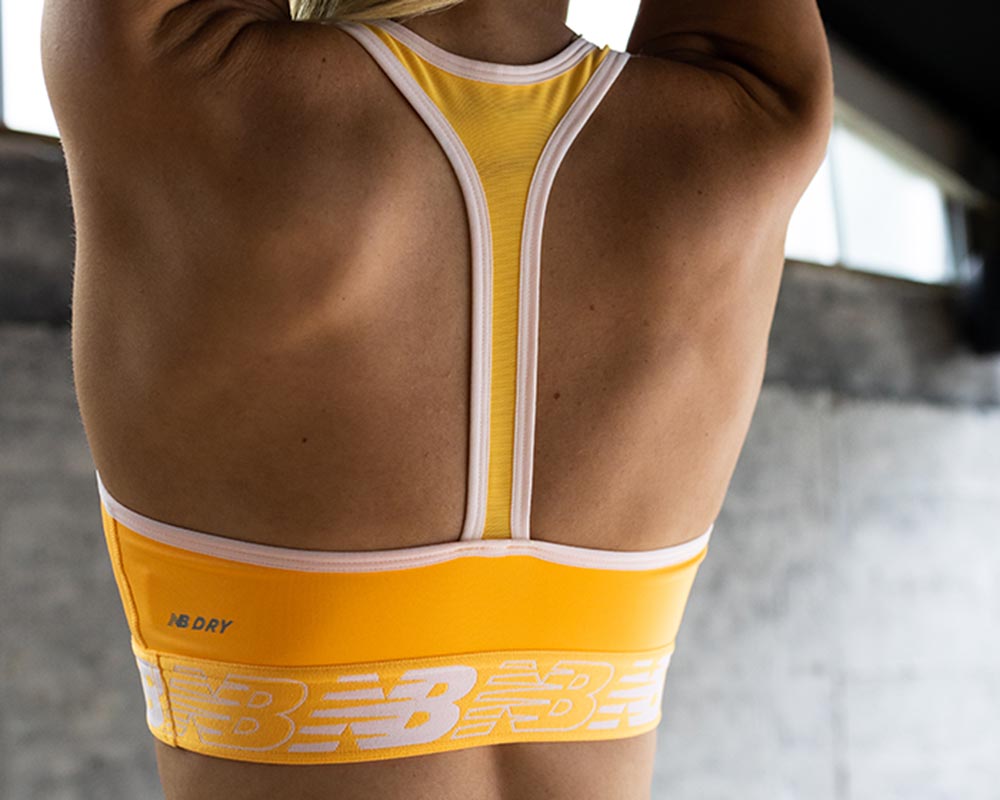 Encapsulation or Compression
Compression sports bras are the most predominant style of sports bra across most brands and work by compressing the breasts when worn. They are most often created with a pullover design and are made of tight fabric that is intended to be fitted & snuggly, without restricting movement. The compressive fabric holds the breasts down and together to reduce movement and bounce during exercise, perfect for low to medium impact activity. This style is also generally better suited for supporting smaller cup sizes ranging from A to C cups.
Encapsulation sports bras fit more like a standard bra and will usually feature underwire, adjustable straps, and back clasps. They have moulded cups for each breast, keeping them separated and secure during exercise. They limit breast movement from all directions, therefore offering a high level of support for higher impact exercises such as running, court sports and field sports. Encapsulation sports bras are recommended for women with larger cup sizes ranging from D and above.
Design
Sports bras are designed for functionality but also to make you look and feel good! Personal style, comfort and aesthetic are important to consider when looking for the right sports bra for you.
Once you have decided on the support and style you need for your activity and cup size, you can play around with styles of the straps, bands, and closures that feel right for you. Thin straps that sit across the shoulders are a classic style for light support while higher support bras levels usually feature a racerback style for added security.
Not everyone enjoys the fully fitted, pullover designs that are common with most sports bras. No matter what activity level or cup size you are, adjustability can be found for all shapes and sizes. Look for zip front closures, back clasp closures and adjustable straps for a more customised fit.
INCLUSIVE SPORTS BRAS
The range of inclusive sizing at Rebel Sport is only growing, find your perfect fit with us and our trusted brands.
Light Impact

Best suited for activities that have a limited-to-light impact on the body such as cardio, yoga, gym workouts or lounging at home.

SHOP NOW
Medium Impact

Sports Bras are designed for activities that moderately impact the body, and where more dynamic movement is required.
High Impact

For extra support during activities that have a high impact on the body, such as running, court and field sports, and high intensity workouts.
Youth

Get her the support she needs with our range of junior crop tops & bras. Growing and moving with comfort and security, for every sport.

SHOP NOW