INTRODUCING ContourFIT
From FJ, the #1 Shoe in Golf, comes the latest innovation called ContourFIT. Building on the successful heritage of the Contour Series franchise - the best selling golf shoes of all time - FJ reimagined the entire category from a blank sheet of paper. From the last to the laces, ContourFIT was born from an obsession with comfort and invites you to experience Comfort That Never Quits.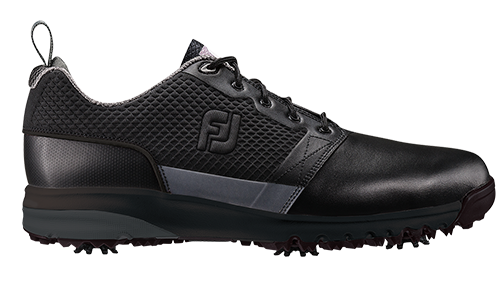 CONTOURFIT - BLACK
Contour from FootJoy was created with the singular focus on comfort, and that dedication continues with the latest innovation, ContourFIT. Starting from the ground, the new outsole has been designed to flex naturally with the foot. Next is FootJoy's softest and lightest midsole compound - for underfoot comfort and cushioning while still ensuring the golfer has appropriate lateral support and stability. Cradling the foot is a newly designed FitBed that is thick, soft and breathable to ensure all day comfort. The entire package is wrapped in a contemporary upper design utilising soft, full grain waterproof leather in the vamp combined with performance synthetic material that FJ warrants will be waterproof.
Enquire Now
Footjoy
There are many brands that boast well-known names, but few are as iconic as Footjoy. Footjoy is the #1 golf shoe, representing the absolute best in both quality and aesthetics. Browsing the brand's selection reveals a collection of innovative styles such as the Contour Casual, a spikeless casual golf shoe that's made of premium leather. Pair any Footjoy shoes with pieces from the Rebel Sport golf clothing collection.
The Mark of a Player
Footjoy's slogan exemplifies the standard of excellence their shoes are held to. As the brand states, Footjoy footwear is indeed the mark of a player. Professionals and dedicated hobbyists can take their game to the next level with a pair of Footjoy shoes, like the FJ Originals, which feature superior traction on the soles and an exterior with a refined appearance.
Footwear for Optimal Golf Performance
Perhaps the greatest advantage of Footjoy shoes is their performance-enhancing ability. With technology like the brand's UberLite™ foam cushioning, or their SoftLite™ engineered mesh, you can enjoy unparalleled comfort that's sure to help you play a better game. Footjoy has even engineered an odor-resistant lining, EverFresh™. It's clear that Footjoy are some of the best men's golf shoes you'll find on the market.